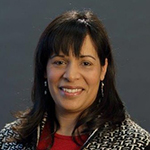 Ana Van Balen serves as the District's first Affordable Housing Preservation Officer. In this role, she works with housing stakeholders, tenants, owners of affordable housing, and real estate and housing advocates to identify and help preserve affordable housing for low-income families in the District.
Van Balen has over 18 years of experience working with families and communities primarily in the Washington, DC metro area. Her areas of expertise involve economic development and revitalization, community development, and social programming for vulnerable and marginalized youth and families.
Most recently she served as the National Director of Community Development & Innovation for Urban Strategies, a social enterprise providing training and other resources to grassroots organizations, serving vulnerable children and families around the country. Prior to that, she served on the cabinet of Montgomery County Executive Isiah Leggett as the Mid-County Regional Services Director. She also served as the Executive Director of Community Bridges—an empowerment organization for immigrant and low-income girls.
Ms. Van Balen holds a master's degree from the Columbia University, and a bachelor's degree from Vanderbilt University with a concentration in community development and social policy.
She and her family live in Washington, DC and are big believers in living locally—knowing your neighbors, supporting your local community and doing everything you can to help make it a better place for all.