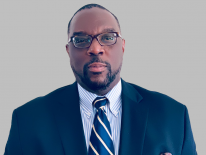 Mr. Smalls serves as the agency's Chief Administrative Officer which oversees the Information Technology and Administrative Services Divisions assuring both internal and external stakeholders have the service, support, and safest environment to create and preserve opportunities for affordable housing and economic development, as well as, the revitalization of underserved communities in the District of Columbia.
Prior to joining DHCD, Mr. Smalls was a Program Manager with the Department of Employment Services (DOES) where he oversaw the monitoring of the Agency's training programs and services offered through the agency, ensuring District Residents received the highest level of training and programmatic services essential to securing long-term sustainable employment.
Mr. Smalls received his Bachelor of Arts in Political Science from Howard University and holds a Juris Doctorate Degree from State University of New York at Buffalo School of Law.
Mr. Smalls and his wife reside in the historic Anacostia neighborhood of Ward 8.