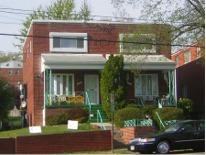 DHCD offers several programs that assist eligible single family homeowners with essential repairs.  These programs help residents bring homes up to D.C. Housing Code standards.  Specific repairs can include roof replacement, abatement of lead-based paint hazards, and improvements for handicap accessibility.
The Single Family Residential Rehabilitation Program (SFRRP) provides loans and grants with a possible maximum usage of up to $75,000 for home repairs. The funds assist households finance home repairs that will address DC building code violations, threats to health and safety, and roof repairs or replacement.
Lead Safe Washington (LSW) provides grants of up to $17,500 per housing unit to eligible homeowners and investor-owners of pre-1978 housing with deteriorated lead-based paint to make those units lead safe. The LSW also assists with unit testing to determine whether there is deteriorated lead-based paint in the home. To be eligible, the homeowner or tenant must be low-or-moderate income. Properties must be occupied by a child under 6 years of age or, in the case of rental property, available to families with children under 6 years of age. Units occupied by pregnant women also may be eligible for assistance.
LSW is made available by funding provided by the US Department of Housing and Urban Development, Office of Healthy Homes and Lead Hazard Control.