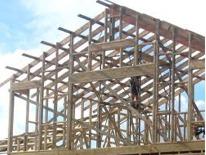 Inclusionary Zoning requires that a certain percentage of units in a new development or a substantial rehabilitation that expands an existing building set aside affordable units in exchange for a bonus density. The goals of the program are to create mixed income neighborhoods; produce affordable housing for a diverse labor force; seek equitable growth of new residents; and increase homeownership opportunities for low and moderate income levels.
The program was developed pursuant to the authority set forth in § 107 of the Inclusionary Zoning Implementation Amendment Act of 2006, effective March 14, 2007 (D.C. Law 16-275; D.C. Official Code § 6-1041.07) and Mayor's Order 2008-59, dated April 2, 2008. These documents mandate the adoption of a new Chapter 22 entitled "Inclusionary Zoning Implementation" of Title 14 (Housing) of the District of Columbia Municipal Regulations.
Inclusionary Zoning - Background
What is Inclusionary Zoning?
Inclusionary Zoning (IZ) is a land use technique for developing diverse mixed-income communities by requiring each new residential development make a percentage of the new units affordable to targeted incomes. It often lets developers build more units through a "density bonus" along with other incentives to help the program operate better. IZ is used in cities across the country and states have made it part of their law. Montgomery County, MD was the first to implement IZ back in the 1970's. Since then, IZ helped create over 11,000 units of affordable housing in the County.
IZ in the District
IZ in the District began with a set of public hearing held by the Zoning Commission starting in 2005. The Zoning Commission divided the hearing process into three parts covering 1) the design of program, 2) where it would apply in the District, and 3) how IZ requirements would interact with existing zoning overlays. At roughly the same time, the Council of the District of Columbia passed both the Comprehensive Plan for the National Capital and the Inclusionary Zoning Act of 2006, which give policy guidance and empowers the Mayor to administer the program.
Maximum Household Income Limits
These income limits are for D.C. Law 16‐275; D.C. Official Code § 6‐1041.01 et seq.) ("the Act") and the Inclusionary Zoning Regulations adopted by the Zoning Commission for the District of Columbia and codified in Chapter 26 Title 11 of the DCMR.
2013 Washington DC Metropolitan Area Median Income (AMI) = $107,300
Maximum Household Income Limits (2013)
Household Size: 1 $38,306 (50% AMI) $60,839 (80% AMI)
Household Size: 2 $43,778 (50% AMI) $69,530 (80% AMI)
Household Size: 3 $49,250 (50% AMI) $78,221 (80% AMI)
Household Size: 4 $54,722 (50% AMI) $86,912 (80% AMI)
Household Size: 5 $60,195 (50% AMI) $95,604 (80% AMI)
Household Size: 6 $65,667 (50% AMI) $104,295 (80% AMI)
The Maximum Household Income Limits are based on the Washington Metropolitan Statistical Area 2013 Area Median Income of $107,300 for a family of four as published by the US Department of Housing and Urban Development in December of 2012, and are adjusted for household size.
Other Information
For Questions Regarding
Zoning and Project Approval
Matt LeGrant, Zoning Administrator
DC Department of Consumer and Regulatory Affairs
(202) 442-4576
Ongoing IZ Unit Management
Marshall Cusaac
Housing Regulations Specialist
DC Department of Housing and Community Development
(202) 442-4327