2228 Martin Luther King Jr. Avenue Demolished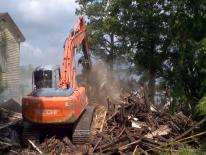 On July 31, the Department of Housing and Community Development (DHCD) demolished 2228 Martin Luther King, Jr. Ave., S.E., a part of the Big K Solicitation for Offers issued in June. The historic property, which was built before 1880, suffered from years of demolition-by-neglect and could not be saved. DHCD purchased this property and the historic properties adjacent to it (the Big K site) for the purpose of adaptive re-use and redevelopment. A Solicitation for Offers (SFO) for development of the Big K site was issued in June. The rear addition on 2234 Martin Luther King, Jr. Ave., S.E. has been demolished and stabilization of the property has started. The rear porch at 2238 Martin Luther King, Jr. Ave., S.E. has also been demolished.
DHCD will not hold another site visit. However, potential bidders for the Solicitation for Offers are encouraged to drive by the site now that demolition has taken place.
All submissions must be received by 3 p.m. Friday, September 7, 2012. Application materials are available in CD format for pickup at DHCD's Housing Resource Center located at 1800 Martin Luther King Ave, SE. Printed copies of the application will made available upon request.