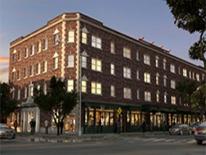 The Rental Conversion and Sale Division (CASD) administers several laws related to the conversion of property to cooperatives or condominiums, including:
The Rental Housing Conversion and Sale Act of 1980, as amended (D.C. Law 3-86) (the Conversion Act).
The Tenant Opportunity to Purchase Act (TOPA) is included under the Conversion Act, and regulates the conversion of use, sale, and transfer of rental housing in District of Columbia. Tenants can:
Have the opportunity to invoke their rights to purchase
Have first rights of refusal
Receive offer of sale notices
Receive notices of the transfer and the conversion of property to cooperatives or condominiums
The Condominium Act of 1976 Technical and Clarifying Amendment Act, as amended (D.C. Law 9-82) (the Condominium Act). This act regulates condominium formation and registration of condominium units before a developer may offer units to interested buyers, including administration of the Structure Defect Warranty Claim Program.
The District Opportunity to Purchase Act (DOPA). This act empowers the Mayor with the right to purchase buildings with five or more rental units of which 25 percent are deemed as "affordable."
Procedures for Tenants and Landlords
Certain procedures must be followed and documents filed by:
Landlords when they seek to sell an apartment building or convert it to a cooperative or condominium.
Tenants when they want to invoke their TOPA rights.
Note: On July 3, 2018 a new law became effective that exempts single family dwellings from TOPA, unless occupied by certain elderly or disabled tenants. See our summary for more information.
DHCD Presentations About TOPA
If you are interested in DHCD staff making a presentation about TOPA to your group of landlords, tenants, tenant associations, realtors, or title professionals, please contact (202) 442-4407.
Conversion and Sale Forms and Filing Information
Rental Conversion and Sale Forms
Rental Conversion and Sale Fee Schedule [PDF]
Weekly Report of Filings under TOPA
Program Fact Sheets
HRA Legal Service Providers March 2021
District Opportunity to Purchase Act [PDF]
Tenant Purchase Rights [PDF]
Condominium Structural Defect Warranty Claim Procedure Form
Condominium Association Bill of Rights and Responsibilities