Monday, November 26, 2012
Affordable and Market Rate Housing Coming to Eckington Neighborhood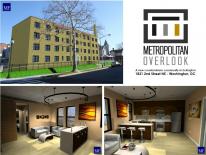 The Department of Housing and Community Development (DHCD) has sold 1831 2nd Street, NE, to 2nd Street Community Partners, joint-venture between District-based real estate development companies Dantes Partners and The Menkiti Group. The two minority-owned and operated Certified Business Enterprises (CBE's), based in Ward 5, will redevelop the vacant 37-unit apartment building in the Eckington neighborhood.
The property will be transformed into new residential condominiums comprised of market rate, workforce and affordable housing units. A groundbreaking ceremony will be held at 10:00 am on Tuesday, November 27, 2012 at the building site, 1831 2nd Street, NE, Members of the press and local community are encouraged to attend.
"The development of this project fits our mission to create and preserve affordable housing options for District residents or people interested in making this city their home," said DHCD Director Michael P. Kelly. "As housing prices increase, our long term goal is to provide homeownership opportunities that remain accessible for low- to moderate-income households."
The project will create a minimum of 11 affordable housing units for residents at or below 60% of the Area Median Income for a period of 15 years.