Workshops Provide Safety Tips On Cleaning and Maintenance After Removing Lead-Based Paint Hazards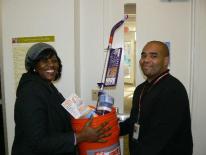 (WASHINGTON, DC) – The Department of Housing and Community Development (DHCD) launched a training workshop for participants in the Lead Safe Washington Program (LSW) that highlighted safety tips on cleaning and maintaining the property after the removal of lead-based paint hazards.
More than 20 participants attended the six-hour workshop which revealed common methods of lead exposure, examined the health effects of lead-based paint hazards in children, provided cleaning demonstrations and featured several videos on lead safety. Each participant received a kit that contained cleaning supplies at the end of the workshop.
In May, DHCD announced it had received than $2.9 million from the US Department of Housing and Urban Development (HUD) to conduct a wide range of activities to protect children and families from potentially dangerous lead-based paint and other home and safety hazards.
"The funding provided by HUD gives us the opportunity to do more for participants in the program," said DHCD Director Michael Kelly. "Our goal with the workshop is to provide more information about safety and offer additional resources."
Lead Safe Washington provides funds to reduce lead-based paint hazards in eligible single- and multi-family dwellings. The criteria for program participants include:
Income-eligible, owner-occupied households where at least one child under the age of 6 who either lives in or frequently visits a housing unit with existing hazards related to lead-based paint (households with a pregnant woman are also eligible).
Owners of rental housing units with existing hazards related to lead-based paint that are occupied by income-eligible families (these property owners must commit to affirmatively market all treated units to families with children under the age of 6 for three years following the abatement).
For more information on the Lead Safe Washington Program, please visit dhcd.dc.gov, send an e-mail inquiry to [email protected] or call 202.442.7279