Thursday, October 17, 2013
The District agency transferred vacant lots to the organization to erect six sustainable homes for veterans.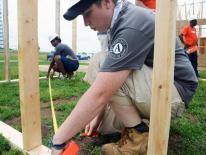 Washington, DC – The D.C. Department of Housing and Community Development (DHCD) held a public hearing on Wednesday, October 16, 2013 at 6:30 p.m. in the agency's Housing Resource Center to announce the transfer of a vacant lot, in the Randle Heights community, to Habitat for Humanity of Washington, DC (DC Habitat). The non-profit, affordable housing organization will erect six sustainable single family homes on the lot as part of the "Homes for Vets" campaign.