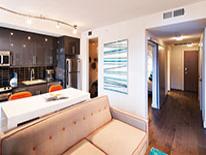 The District's Inclusionary Zoning (IZ) Program requires 8 percent–10 percent of the residential floor area be set aside for affordable rental or for-sale units in: 
new residential development projects of 10 or more units; and 
rehabilitation projects that are expanding an existing building by 50 percent or more and adding10 or more units.
The DC Department of Housing and Community Development (DHCD) uses a lottery process to randomly select households meeting income restrictions and other criteria on a rolling basis as units become available. Households interested in purchasing or leasing an IZ home must take two steps to receive notifications about IZ unit availability and be eligible for the lottery process:
take the IZ Orientation class with one of our partner community-based organizations; and 
register for the program by completing the online registration form.
After completing the registration requirements, households will be contacted via email when units become available that meet the household's eligibility criteria. Priority is given to registrants who live or work in the District. Eligible registered applicants need not be present when the lottery is conducted. Household registrations must be renewed every two years, prior to expiration. 
For Households:
For Property Management, CBOs and Lenders:
General Information: