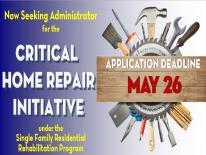 The DC Department of Housing and Community Development (DHCD) is seeking a single organization to serve as the administrator of our Critical Home Repair Initiative (CHRI). This Request for Applications (RFA) was issued April 14, 2017.
How Is This Being Funded?
The organization will receive grant funding from the Community Development Block Grant (CDBG) program and the District's Housing Production Trust Fund (HPTF).
What Are the Duties?
The organization will conduct the CHRI for the Single Family Residential Rehabilitation Program (SFRRP) and other home preservation programs. Duties will include:
managing the construction process for DHCD-approved SFRRP applications — initially, the focus will be on roof repair and disability modification grants, but some emergency rehabilitation work will be included;

being a subject matter expert on making improvements to home preservation programs; and

managing the various administrative requirements for each funding source in SFRRP.
How Do I Apply?
The RFA package can be found below and is also available in hard copy and CD format at DHCD, 1800 Martin Luther King, Jr. Avenue SE, daily from 8:15 am until 4:45 pm at the 1st floor reception desk (202-442-7200).
What Is the Deadline?
Completed applications must be delivered on or before 4:00 p.m., Eastern Time, on May 26, 2017, to 1800 Martin Luther King Jr. Avenue SE, 1st floor reception desk, Washington, DC 20020.