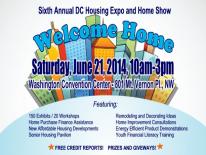 ---
The Expo is free and open to the public
Registration is not required to view the exhibits or demonstrations
but is strongly advised for workshops
To register for workshops using "eventbrite":
http://bit.ly/1kQ57Lz
---
A range of workshops and demonstrations, from homeownership 101 (English and Spanish), healthy cooking classes, do-it-yourself home repair classes, avoiding foreclosure, and credit repair tips will be offered.
Scheduled Workshops:
DC Government Employees: Access to Government Resources & Financial Assistance: This session will highlight the various financial resources and other services dedicated specifically for DC Government union and non-union employees. Emphasis will be placed on the Negotiated Employee Home Purchase Assistance Program (NEAHP). Through the program, employees are eligible to apply for up to $20,000 in financial assistance to be used toward the purchase of a primary residence in the District of Columbia. Financial assistance provided through NEAHP is in addition to that offered by the Department of Housing and Community Development (DHCD) and any other community and/or government organization.
Buying a Home are you Financially Fit? Buying a home is the single most important asset building decision most households ever make and financial fitness is a key to success. This workshop is designed to help you decide if you are ready by providing information on savings and banking services, individual development accounts, homebuyer education and support groups and pre-purchase housing counseling. Time is allotted and experts are standing by with answers to your financial fitness questions.
Keeping Your Home: Buying a home is the just the beginning - keeping your home is the ultimate goal. Unfortunately, bad things sometimes happen to good people. This workshop is designed to help keep your mortgage payments current and prevent foreclosure. You will learn about money management strategies, loan modifications, repayment plans, forbearance agreements, short sales, and other alternatives. In addition, we will discuss resources available in the District including HUD certified housing counseling agencies and the Foreclosure Mediation Program.
Aging in Place and Senior Friendly Housing Alternatives: Are people planning ahead, being educated as to what, how and when to do this, and are they willing to make the changes in their space, so that they can Age in Place? This session will help you overcome procrastination, and denial about needing to make changes. You can avoid a crisis and plan now. We will explore proactive decision making and best practices in preparing to age in place. By understanding options and what it takes to prepare.
Keeping it Simple and Practical – Office of the People's Counsel Energy Efficiency Workshop: Show residents through hands-on demonstrations of simple and practical energy efficiency products, and share many measures that they can immediately apply to their homes for energy savings. The idea is to empower residents with information to take control of their energy usage for energy savings
"The Secrets to Beautiful Design Executed On a Dime" By: Trystin Kier Francis: Join three tiered designer Trystin Kier Francis, a specialist in Event, Interior and Wedding design for an hour of inspiration, enlightenment and absolute fun! Trystin will equip you with his secrets and knowledge on how to achieve the ultimate beautiful interior design on a dime. Whether you're a first time homebuyer, future homeowner or current homeowner you don't want to miss this! Seats are limited!
More Life-Less Clutter: Strategies: Excessive collecting or hoarding can threaten an elder's right to age in place. Demographic, legal and economic shifts create new challenges to those caring for these elders. Nationally, professionals are designing ways to identify and clear offending hoarding and to work with landlords, lawyers and housing court judges to prevent evictions. Presenters will provide pragmatic tools and methods to meet these challenges in the District of Columbia Senior Community.
Financial Reality Student Fair: The Financial Reality Fair is 2.00 hours of hands on experience where students, after identifying their career choice and starting salaries, are provided a budget sheet requiring them to live within their monthly salary while paying for basics such as housing, utilities, transportation, clothing, and food. After they have visited all the booths, students will balance their budget, and then sit down with a Financial Counselor to review their standing. The Fair is a unique opportunity for each student to experience some of the financial challenges they will face when they start life on their own.
Homeownership 101: The Basics of Searching, Borrowing and Owning: This workshop will prepare you for becoming a homeowner. The home buying process will be outlined to help get you started with finding a lender, realtor, home inspector, and title company. Home buying programs offered by the District Government will be discussed.
---

GIVEAWAYS
DHCD has worked with our partners and sponsors to secure a host of exciting giveaways for event goers. Keep your eyes peeled in the coming weeks as we announce what the exciting items will be!!


Contact: TTY 711