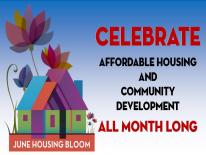 The DC Department of Housing and Community Development and other housing agencies held a host of events in celebration of June Housing Bloom," Mayor Muriel Bowser's annual month-long initiative that showcases how the public and private sectors are partnering to both produce and preserve affordable housing and revitalize neighborhoods across the District.
June Housing Bloom is designed to complement National Homeownership Month, but with a more targeted focus on housing-related initiatives and successes within the District. Events will spotlight efforts to advance five key priorities: (1) producing affordable housing; (2) preserving affordable housing; (3) increasing homeownership; (4) ending homelessness; and (5) finding solutions to vacant and blighted properties. The revitalization of District neighborhoods was also celebrated during the month.
Beyond DHCD, agencies that held June Housing Bloom events include:
Key events for the month included:
DHCD Saturday College for landlords, tenants, realtors, on Saturday, June 3.
The DC Department of Housing and Community Development (DHCD) released

Solicitations for Offers

(SFOs) for the development of District-owned properties. The goal is to build projects that promote vibrant, walk-able, mixed-use and mixed-income neighborhoods and combat blight in the District.
DHCD Community Fair at Greenleaf Recreation Center on Saturday, June 10.
DC Housing Financing Agency's (DCHFA's) DC Open Doors Homebuyers' Informational Sessions on Wednesday, June 7 and Wednesday, June 21.
DHCD's Ninth Annual DC Housing Expo and Home Show, co-hosted by the Greater Washington Urban League, on Saturday, June 24.
Public hearing on DHCD's Annual Action Plan on Tuesday, June 27.