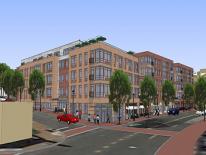 The Big K site in Ward 8 is one example of how the DC Department of Housing and Community Development (DHCD) is transforming vacant and/or abandoned properties in the District. The site has been abandoned for over 30 years, but within approximately the next two years, it will provide new affordable housing and retail for Ward 8 residents.
What Is The Big K Site?
The Big K site is an assemblage of four District-owned parcels at 2228 – 2252 Martin Luther King Jr. Avenue SE, at the corner of Morris Road. Three of the four parcels are located in the Anacostia Historic District. Two historic single family properties and one commercial building are located on the site.
Project Background
On June 4, 2012, DHCD's Property Acquisition and Disposition Division (PADD) released a Solicitation for Offers (SFO) for the development of The Big K site. The SFO sought a development proposal that would use creative ways to rehabilitate and adaptively re-use the remaining buildings. The end result will be a vibrant, mixed use development that promotes walkability and provides neighborhood-serving retail.
Project Developer
The project was awarded to Chapman Development on November 1, 2012 and DHCD entered into a Property Disposition Agreement with 2228 MLK, LLC (a development entity formed by Chapman).
Project Vision
The $50 million development project, at 2228 Martin Luther King Jr. Avenue SE, is named Maple View Flats and will have the following features:
100 percent affordability:

All 114 newly constructed affordable housing units will be rented to households making no more than 60 percent of the Area Median Income (AMI). The units will be affordable for 40 years and will be bound by a Housing Production Trust Fund (HPTF) covenant.

Housing for families and individuals:

Housing for families will consist of 24 two-bedroom units and eight three-bedroom units. The remaining 82 units will be one bedroom.

Retail and parking:

The project will have over 14,500 square feet of ground floor commercial space and two levels of underground parking.
Historic Homes Restoration
The historic homes will be moved to a new site in Ward 8 and restored, beginning in early 2017 and ending by fall 2017. In addition, three new construction homes will be built on the site, designed and developed based on the approved Neighborhood Pattern Book for the Congress Heights, Anacostia and Saint Elizabeths (CHASE) communities.
Background:
Community Meetings
Studies